Stay connected
to your best prospects
Technology-enabled ad sales
Discover Media House is a platform for media sellers to work directly with advertisers, connecting through a powerful conduit of technology that saves a tremendous amount of time in back-and-forth communications and drafting powerpoints and excel schedules. Say goodbye to the fax machine and hello to point-and-click insertion orders!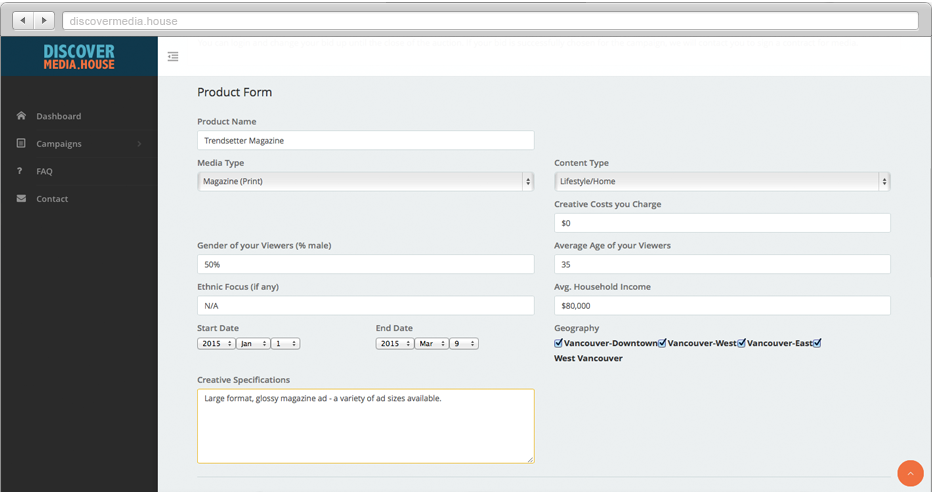 Discover Media House improves the sales process for media vendors in a number of ways:
Enabling sales reps to manage and communicate with a larger number of clients simultaneously (because buyers have the relevant information laid out for them in consistent ways between products and so need less of the reps' time explaining it)
Letting reps focus their limited time on the best prospects of success (determined by the very specific parameters set out for each campaign)
Enabling media sellers to notify numerous buyers at once about any promotions they are running (our advertisers ask us to hear about sales in particular areas of interest – for example, print or out-of-home)
Only seeking bids from sellers when their products are a strong fit (our algorithms target media products with a high level of efficiency, so you only hear from us when you have a strong chance of making the campaign)
It is our goal for you, as a seller, to be ultimately selected for campaigns that you have bid on at least 1/3rd of the time (provided your bids are competitive). We can potentially work with you to determine at what probability of signing a deal you would like to be included, so that if you're in peak season, you can have it so only campaigns that are nearly a perfect fit will come your way and then at slower times of the year you can be included on a wider array of RFP's.
Our new Media Promotions Program can drive quality leads your way
We send a regular update to hundreds of national and local advertisers across the country. If you have promotions or special offers on media, we'll play match maker and get your deals in front of our audience. The benefits to sellers are:
Reach new customers you might not otherwise reach
Connect with buyers at the "bottom of the funnel," actively looking to buy advertising
Convert buyers with entry-level deals that match the preferences they have given to us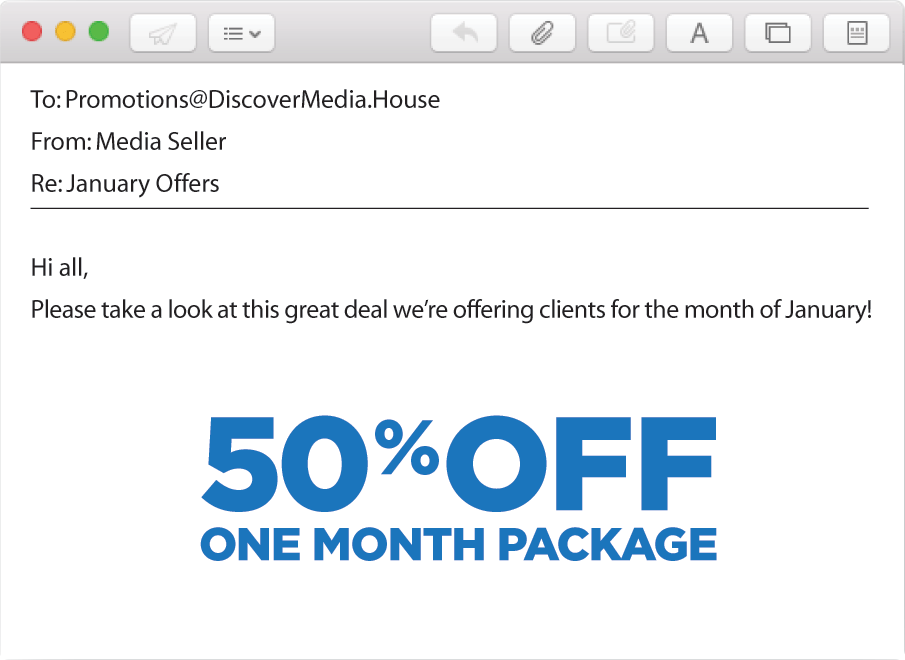 To take part, simply add
promotions
to your list when sending out deals and we'll include your offer in our next client email
Learn more about the benefits of listing your inventory & promotions with Discover Media House
If you want to learn more about technology-enabled media buying, please fill out the form below and we'll get back to your right away. Or contact us directly
Please enter all the required information