Plan your next campaign in minutes
We bring the entire media universe - both digital and traditional media - to your desktop. You can use our tools to zero in on your target consumer and then hold an auction with the relevant media suppliers to get the best prices possible on the media you want
Discover Media House is the world's first automated platform for end-to-end planning and buying of all media types
Our proprietary Demographic Discovery Layer™ technology enables small and large advertisers and advertising agencies to find all the relevant ad inventory for their campaigns online and offline and acquire it at a remarkably low price point, using the power of auctions. We utilize powerful algorithms to help you discover new customers for your business, as well as old customers in new places.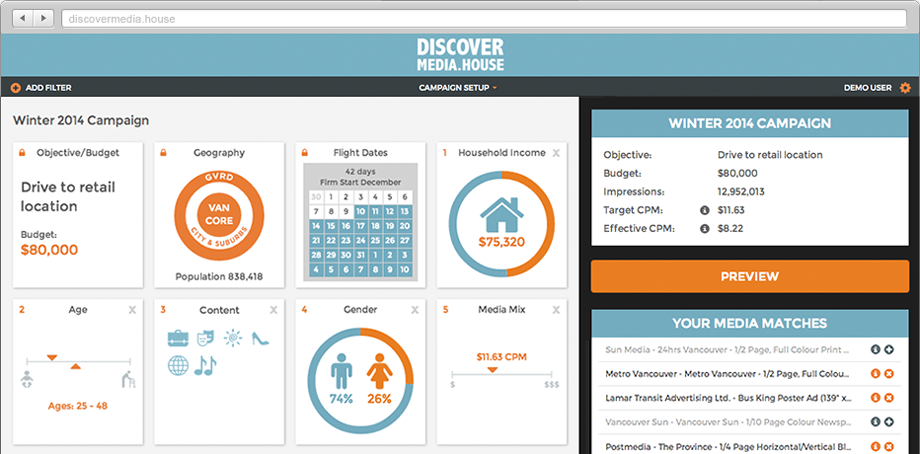 Use technology to escape the time warp of media planning
Have you ever lost an afternoon trying to reconcile all the prices, impressions, and creative formats of a multimedia campaign?
We're here to help you
Get Started Now
1. Save time
Our dashboard organizes extensive market data so that you don't have to
2. Save money
We hold an auction for your campaign, bringing you unbeatable pricing
3. See it all
We show you all the ad inventory relevant to your target market and our interface is available 24/7
Achieve a net cash savings, as suppliers pay the cost of holding your auction
No cost to plan a campaign
Sign-up to plan a campaign

Enter dates, demos, etc.

Proprietary database finds ideal media matches
Supplier pays small % on transactions
Hold a supplier auction

Review and transact

Get post-campaign reports..., repeat!
We have senior media buyers on our help desk, rather than on retainer. We can put you in touch with our preferred creative specialist to build your ads and we do the negotiating for you. Our platform also saves the details of each plan you make, along with the ad prices you get, for future plans - improving your game with every media campaign!
Contact Discover Media House
If you want to learn more about technology-enabled media buying or if you are a media seller and you would like to discuss listing your inventory or promotions on our site, please fill out the form below and we'll get back to your right away.